Ray Leicht has been building violins since 1985. His attraction to the violin stems from a deep rooted affection for classical music and for old time music. His sister is a concert pianist, and classical music was required listening in the Leicht household when Ray was growing up. His wife is an accomplished pianist and both daughters played the piano and violin, reinforcing Ray's fondness of stringed instrument music. Ray also played the fiddle, guitar, and autoharp in various old time/ bluegrass bands.
Ray became attracted to violin making because of its potential as a life long craft and because he was in the market for a new violin to replace his old one. His first violin was constructed in an unheated, poorly lit garage in Cheyenne, Wyoming, where winters are brutal. He often found himself, at the risk of his wife's wrath, moving into the family dining room to complete the finer work. Over time, Ray evolved to more accommodating, well equipped workshops, tailored to the violin making craft. His current workshop is at his residence in Boise, Idaho.
Much of Ray's inspiration f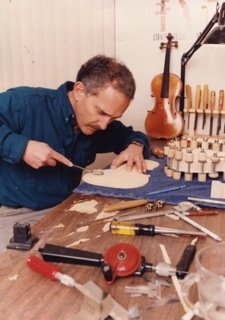 or building violins is the result of long term mentoring with the late Michael Scoggins, former instructor at the Violin Making School of America, in Salt Lake City, Utah. Another strong influence has been an active membership in the Violin Makers' Association of Arizona International (VMAAI), where Ray has served three terms as a board member and currently serves as its president. The VMAAI was founded in 1958 and is the oldest violin makers' organization in the United States. Since 1987, Ray has presented workshops and competed in violin making competitions at the annual VMAAI convention and competition in Tucson, Arizona, having garnered a number of awards for tone. In 2010 and 2012, two violins entered in the competition won the coveted Bob Wallace Grand Champion trophies for tone.